August 12, 13 & 14, 2022
Hours
Location
More about
Fri & Sat: 9AM-5PM
Sun: 9AM-3PM
THE VILLAGE AT SUNRIVER
57100 Beaver Drive, Sunriver, OR 97707
The 13th Annual Sunriver Art Fair will be held August 12, 13, 14, 2022 in the charming village setting located in beautiful Sunriver, Oregon. Sunriver is one of the Pacific Northwest's premier vacation getaways.
The Annual Sunriver Art Fair is a "Consistently stunning array of fine art, price points are appropriate, and it's located in a picturesque setting within the heart of Central Oregon, located in a high desert resort with beautiful views and wonderful family activities." "Level of artist talent is high. High caliber event, well run, something for everyone!" Voted The America's Best Art Fairs Awards in 2018! Don't miss this event as there is something for the entire family from train rides, bouncy castles, take and make craft bags for the littles and more!
About the Sunriver Art Fair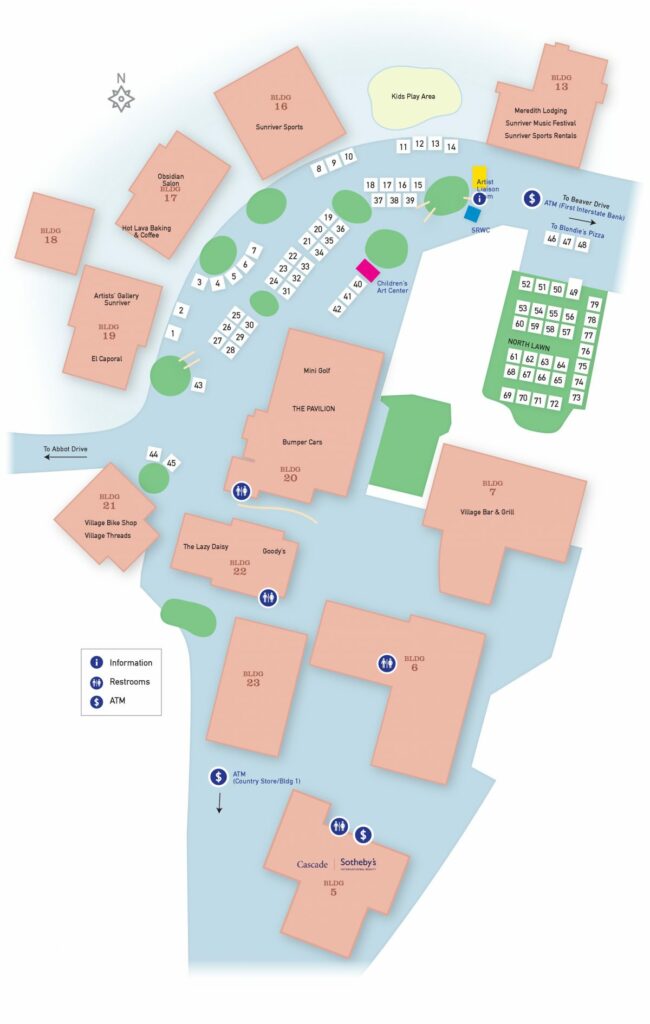 The annual Sunriver Art Fair is held in August in beautiful Sunriver, Oregon, in a charming outdoor village setting.
At the Sunriver Art Fair, we are committed to presenting a memorable experience for Central Oregon residents and visitors at the upcoming art fair. We are proceeding with our event as planned, and are closely watching for any changes that may affect the art fair due to state and local COVID-19 guidelines. Additional precautions are up to individuals.
Sunriver is one of the Pacific Northwest's premier vacation getaways. Located 15 miles south of Bend, it is both a residential and resort community. The combined population of Sunriver, Bend, and the surrounding area is over 200,000. During the peak summer season, Sunriver welcomes thousands of visitors. The Art Fair coincides with the annual Sunriver Music Festival, a major event that draws many visitors who are interested in the arts.
Background and Purpose
Sponsored by the Sunriver Women's Club (SRWC), the art fair is our major fundraiser for our grant programs. Since 1999, the SRWC philanthropy program has awarded over $760,000 to nonprofits that provide essential services for women, children, families and seniors, and educational opportunities for at-risk children and teens in south Deschutes County.
The Sunriver Art Fair is dedicated to supporting visiting artists to ensure that they have a successful experience. Feedback from a few of our previous artists:
"You provide a wonderful venue and are the ultimate hosts!"
"You provide such as amazing experience for the artists."
"This is one of my favorite shows to do!"
Find out more at the Sunriver website: www.sunriverartfair.org!