October 8 & 9, 2022
Hours
Location
More about
Sat: 10AM-4PM
Sun: 10AM-3PM
Sisters Oregon; in the heart of Sisters Country, is located on the east side of the Cascade Mountains in Central Oregon, 136 miles southeast of Portland. The Sisters Country is just 20 miles west of both Bend, Oregon and Redmond, Oregon. Sisters is accessible via highways, 20, 22, 126 and 242.
Google Map
The Annual Sisters Harvest Faire will be held October 8 & 9, 2022 in an 1880s-era Wild Western town setting located in beautiful Sisters, Oregon, Main Avenue.
Featuring live music Saturday & Sunday, you will find artisan crafted gifts, fine art, food, and free admission! Don't miss this event as there is something for the entire family!
About the Sisters Harvest Faire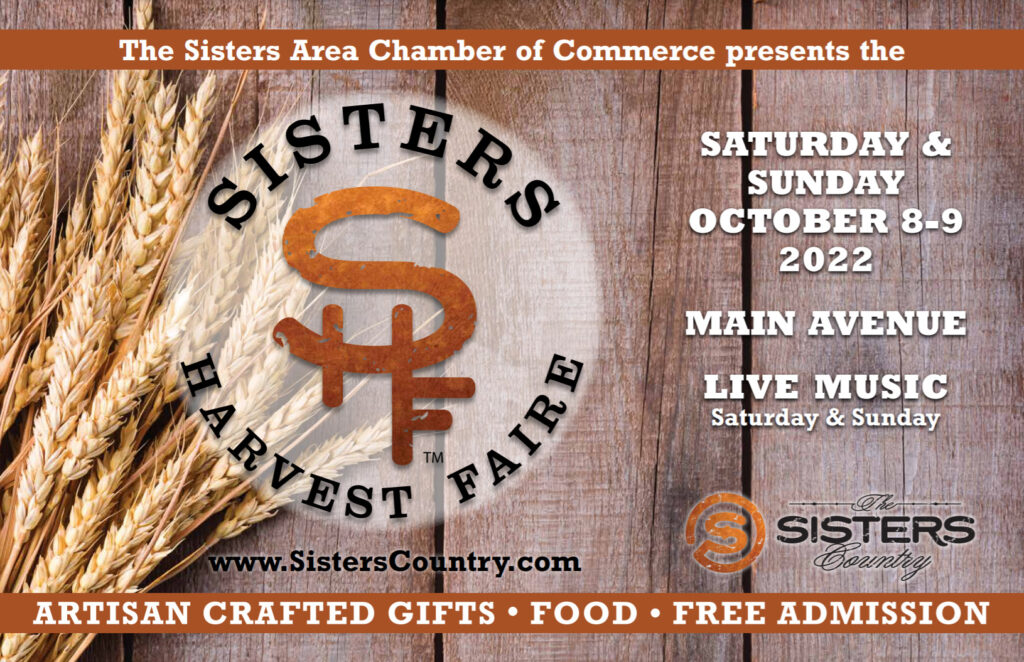 The annual Sisters Harvest Faire is held yearly the second weekend of October.
Sisters, Oregon (aka "Sisters Country") is a wonderland of lakes, mountains and rivers, a paradise for hikers, flyfishermen, paddlers, mountain bikers, birders, skiers, and horseback riders. From the sagebrush of the high desert to the magnificent forests on the flanks of the Cascades, you'll find a lifetime's worth of exploration and adventure.
Wooden sidewalks line the street through downtown Sisters, offering access to the community's boutiques, galleries, and restaurants. An old-time drive-in dishes homemade ice cream, much as it's done since 1952. Public restrooms are marked for "Cowboys" and "Cowgirls." Even the UPS shipping store is called The Pony Express.
Sisters may have all the hallmarks of a rough-and-tumble frontier town, but the city has earned acclaim in recent years for its creative arts, culture, fresh dining opportunities, charming architecture, and down-home, family-friendly atmosphere.
You can slough off the cares of the workaday world, relaxing in world-class lodgings, unwinding at delightful spas, and discovering the arts and crafts of Sisters in mon-and-pop shops. Get a hearty, old-fashioned breakfast or dine in casual elegance.
Sisters is a center of arts and culture, offering events and activities of international renown, from the venerable Sisters Rodeo to the acclaimed Sisters Harvest Faire. There's something here for the entire family!
Find out more at our website: www.sisterscountry.com!